Traction Air CTI - E Series
Managing tyre pressure has never been easier! Introducing TRT's latest innovation in CTI systems, Traction Air™ E Series – the smart CTI. The latest advancements from TRT have seen a brand new system developed from the software to the hardware. Features include:
LCD touch screen with adjustable backlight or
DIN mounted ECU to fit most radio slots
Single Channel and Multi-Channel Options
New stainless steel slimline pressure cell
Additional input/output for future proof connections
See more about the features below. If you would like to know more about Taction Air - E Series, get in touch with our experts today.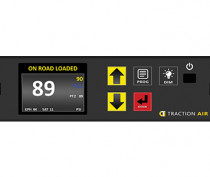 ECU - Electronic Control Unit – DIN Mount
Traction Air's touch screen and DIN mount are 8-30V multi-volt for a no-fuss installation fitting nicely into the DIN radio slot of most vehicles for a seamless visual experience for the operator. Its compact size allows for clearly defined readouts on multi-channel systems (drive axle, steer axle and trailer) or the single-channel (axle) options - the ideal option for New Zealand.
Simple to Use
Power spike protection to 60V
Additional input and output ports on the rear connection for future integrations with CAN bus, GPS RS232, Bluetooth & cellular modem 3G/4G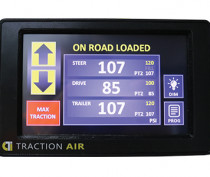 The LCD Touch Screen
This new touch screen keeps operation simple. The new Graphic LCD display option of the E-Series features a larger, easy to read screen with improved clarity and digital readout. Customise the graphic display for your fleet or the operator. The adjustable backlight allows the driver or operator to alter the brightness of the display when operating at night.
Simple to Use
Power spike protection to 60V
Additional input and output ports on the rear connection to enable future integrations with can BUS, GPS RS232, Bluetooth & cellular modem 3G/4G connections and 3rd party integrations.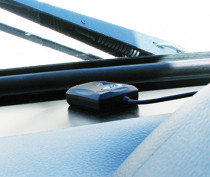 GPS Speed Up
Traction Air uses a GPS ground receiver to measure the ground speed and matches this to the stepped pressure intervals. This is leading technology for CTI pneumatic control.
Not wired into the vehicles speedo or wiring system.
GPS provides constant, accurate real-time vehicle speed.
Small one-off cost at the point of purchase for GPS receiver.
TractionAir GPS has no on-going cost.
This safety feature ensures the driver is not able to drive down the road with the tyre pressure at too low a setting for the speed of the vehicle. The system is fully programmable and can be set for your specific fleet requirements and operational terrain.
How it works
Based on the readings from the GPS receiver, as the vehicle speeds up the system automatically pumps the tyres to the tyre pressure settings, that have been pre-set within the fully programmable system. the operator can no longer drive down the road with tyre pressure settings too low, reducing the risk of tyre damage, blow out or worse.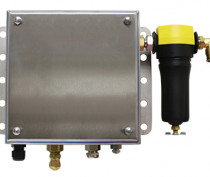 Pressure Cells – Single and Multi Channel Options
The most visible innovation of Traction Air® is the Pressure Cell, a one-piece pneumatics enclosure.
The pressure cell components are fully protected from snow, ice and water with IP66 standard waterproofing and self-purge technology.
Single Chanel – Drive Axle (image shown).
3 Channel - Drive Axle, Drive Axle & Steer Axle, Drive, Steer & Trailer Axle
Constructed in stainless steel (AISI 304) and tested in harshest Scandinavian environments, the cell ensures the ultimate protection against contaminants. Traction Air will keep you operating safely in all conditions!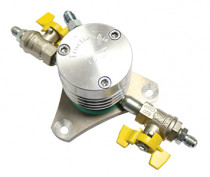 Heavy Duty High Temperature Hub Reduction Wheel Ends
TractionAir™ E Series heavy duty, high temperature wheel end assembly was developed to meet extreme heat requirements when combining Hub Reduction. This is an ideal solution for vehicles that will experience extreme heat, for example in Australia's mid-summer temperatures of over 40°C. The design removes heat from the internal seal facings which significantly improves their operational life.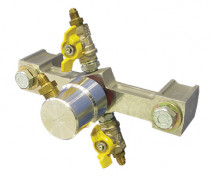 Compact Wheel End Rotator
This is the most Durable and compact rotator on the market. Traction Air's heavy-duty rotator introduces a pressurised mechanical seal, which has carbon and ceramic facings for maximum strength and durability. Vehicle service life, with hub reduction, will be extended due to new cooling fins and high-temperature gaskets.
Traction Air's compact CTI rotors are suitable for all conventional alloy axle bridges with 5/8 UNF thread and feature full stainless centre shaft and compression springs, twin dual contact fully sealed heavy-duty bearings, tungsten carbide & carbon seal facings and contaminant deflector shield. These are available as CTI parts.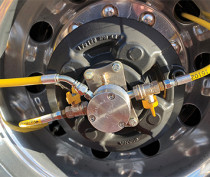 Easy Install
Traction Air - E Series - Easy Install
When receiving your kit it is easy to install, with all the major components preassembled.
There are 4 easy steps with installation manual and service support provided
Mount the pressure cell on the chassis
Fit the ECU in the cab
Attach the wheel end hardware and then,
Plumb the system and plumb in the leads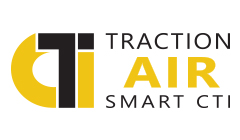 Traction Air™, TRT's central tyre inflation system has undergone a complete evolution in technology and its look. This new single or multi-channel system E - Series is now available to Australian and New Zealand customers.
This new advanced CTI system is based on an extensive 2½ year research and development project in Scandinavia.
TRT have always ensured that as technology in vehicles and operations has advanced so too has the capability of Traction Air. Traction Air was developed over 22 years ago by TRT and is installed on trucks throughout NZ, Australia and the Pacific.
TRT looked to the operation of CTI in Europe, and in particular Scandinavia. With some of the most extreme operating environments, we wanted to understand how and if Traction Air could be adapted and improved.
With our smarts, an investment in research, development and product testing in NZ and Sweden over the past 2 ½ years, we have created a brand new CTI system Traction Air™ – E Series with greater capabilities that integrate with the vehicle using a common BUS signal.
The new system offers multi-channel (axle) options and a single channel option. In order to add this variability, we have had to develop an entirely new system from the ECU and software to the wheel ends and pressure cells. For example, the pressure cell is made of stainless steel to withstand salt roads and thermal switches for operation in -40°".
To find out how Traction Air™ CTI – E Series can work for your operation contact our experts today.
---
Traction Air - E Series
To discuss your application or to arrange a quote call Craig on +64 274 777 383 or fill in the form below, and we will be in touch with you shortly.