Traction Air CTI - G Series
TRT manufacture and install Traction Air™ G Series, Aussie's leading central tyre inflation system.
With over 22 years of innovation, it is loaded with features to make on and off-highway vehicle operations safer and more economical and backed by our 3 year / 500,000 km warranty.
There are a number of key industries that have seen a real return from the use of TractionAir® on their vehicles, including:
Forestry
Road trains
Construction / Civil Contracting
Agricultural applications; from tractors to spreading
Access Equipment
Tanker operations
Cranes
Ideal for both prime mover and trailer units, talk to the team about the best installation options for your operation.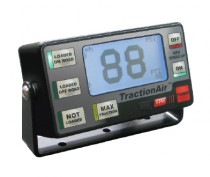 ECU - Simple and Easy to Use
Designed to fit neatly on any truck dashboard, the 8-30V Multi-Volt ECU features large easy to read tyre pressures and LED switches for each tyre pressure setting. The adjustable backlight allows easy adjustment when operating at night.
Taps off alert,
Large easy to read LCD graphic display,
adjustable backlighting and
detent touch buttons for improved recognition.
TractionAir's ECU9 is an 8-30V multi-volt compact size measuring 120mm x 65mm x 36mm. USB capable, the ECU9 comes with simple management software and power spike protection to 160V. A dual pressure transducer system provides accuracy and safety coupled with an enhanced air leak and puncture detection. Features include: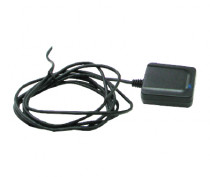 GPS for Peace of Mind
Traction Air uses a GPS ground receiver to measure the ground speed and matches this to the stepped pressure intervals. This is leading technology for CTI pneumatic control.
Not wired into the vehicles speedo or wiring system.
GPS provides constant, accurate real-time vehicle speed.
Small one-off cost at the point of purchase for GPS receiver.
TractionAir GPS has no on-going cost.
How it works
Based on the readings from the GPS receiver, as the vehicle speeds up the system automatically pumps the tyres to the tyre pressure settings, that have been pre-set within the fully programmable system. the operator can no longer drive down the road with tyre pressure settings too low, reducing the risk of tyre damage, blow out or worse.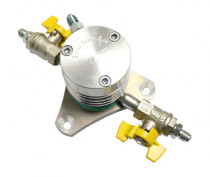 Heavy Duty Wheel Rotators and Wheel Ends
TractionAir™ G5 series to the and later series, provide simple pneumatic circuit design reducing installation and maintenance. Modular assembly makes TractionAir™ the first true 'plug and play' CTI System. Proven in the field, TractionAir's heavy duty rotator introduces a pressurised mechanical seal, which has carbon and ceramic facings making a dramatic change from previous models used.
With new seal facings, it makes this rotator the most durable in the market. Vehicle service life, with hub reduction, will be extended due to new cooling fins and high-temperature gaskets.
TractionAir™ Compact CTI Rotors are suitable for all conventional alloy axle bridges with 5/8 UNF thread and feature full stainless centre shaft and compression springs, twin dual contact fully sealed heavy duty bearings, tungsten carbide & carbon seal facings and contaminant deflector shield. These are available as CTI parts.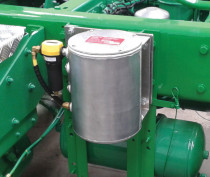 Unparalleled Accuracy
Dual transducers work in tandem continuously measuring pressure with each other, they effectively self diagnose. Should either transducer become out of phase with its partner the driver is alerted with the ECU informing them of the transducer fault. There is no other system that would give you this level of protection and safety.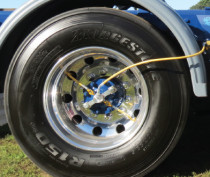 Easy Install
When receiving the kit it is easy to install, with all the major components preassembled.
You then need to:
Mount the pressure cell on the chassis
Fit the ECU in the cab
Attach the wheel end hardware and then,
plumb and plub in the leads
About TractionAir® CTI System
Central Tire Inflation (CTI) was developed during World War 2 as a means to improve the mobility of military vehicles moving across difficult terrain. Moving forward two or three decades CTI was introduced to North American Forest operations, giving rise to modern day commercial CTI Systems.
TractionAir is backed by over 20 years of TRT Innovation!
TractionAir® was developed in Australia and New Zealand in the 90's with input from logging operators across both countries. Our objective was to design an operator focussed, user-friendly system and from its release, it quickly found favour in the region.
Without TractionAir, you will compromise the life of your tyres. They get inflated to around 100 psi when the prime mover or trailer is loaded with its maximum payload. The CTI concept is designed to match tyre pressures with the load and the speed of the vehicle. TractionAir® does this with exceptional accuracy.
The correct pressure setting for an 11R 22.5 Tyre at 100kph will be when the tyre's sidewall is deflected by 12% of its unloaded height. At 10kph, that sidewall deflection can be increased to 30%, which will double the footprint and halve ground pressure.
TractionAir® enables you to adjust the pressure to suit both without leaving the cab. Steel-belted radial truck tyres are designed to flex, maintain correct tyre sidewall deflection ratios, and you gain huge traction advantages (reducing wheel slip) and reduce overall vibration. It is this vibration reduction that produces the greatest cost savings and operator savings
TractionAir Installation
The modular design of the TractionAir system keeps installation simple. The installation will take 6-10 hours. Within Australia we have the following options, depending on your requirements:
Full fitment available with TRT or one of our installers Australia wide
Kitset with installation manual
Kitset sales are supported by TRT's field sales team or approved installers. We can assist technicians and conduct system training for service staff, drivers, and operators. This is ideal if you have a fleet and your own workshop facilities.
Download the latest manual from the Manuals tab.
Traction Air - G Series
To discuss your application or to arrange a quote call Craig on 1800 802 912 or fill in the form below, and we will be in touch with you shortly.