First TIDD Crane for Quarry and Mining Experts, QME Engineering
12 November 2021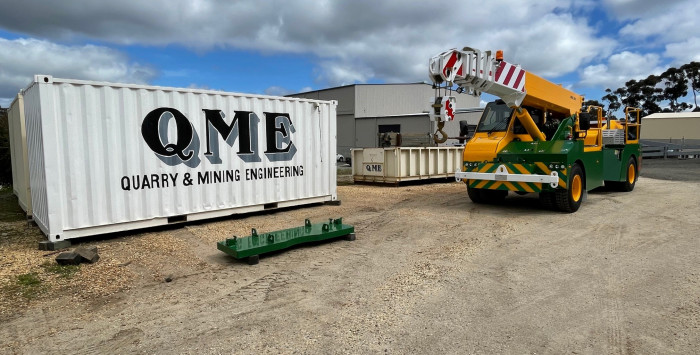 Congratulations to Ian Rowan, Director of QME Engineering for taking ownership of their first TIDD PC28 Pick and Carry Crane.
QME Engineering were looking for a crane with outstanding lifting capacities, improved manoeuvrability on sites with no compromise on safety.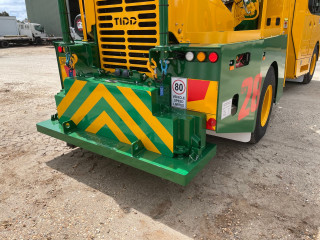 QME is one of Australia's most dynamic manufacturers of quarry and mining equipment. They specialise in the design, manufacture, and installation of quarry and mining plant and equipment, from initial inception to final commissioning for quarries, sand production, recycling, wet mix plants, and crushing and screening plants.
With over 100 years of experience in their team, QME provides a production guarantee with quality equipment designed to resist the toughest conditions in the quarry and mining environment.
Their new crane will be operating in their Kangaroo Flat, Victoria workshops and all site installations, and will be used to assist in the production and fabrication of mining equipment.
We asked Ian why they choose the TIDD PC28, "The crane features are perfect for the operating conditions. The TIDD PC28 is narrow, tight, and ideal for confined areas but still has the lifting capacity we need."
The TIDD PC28's unrivalled manoeuvrability has been providing operators with greater opportunities on sites that had previously restricted pick and carry crane activity due to safety risk.
Working in the quarry and mining industry, the TIDD PC28 had to be mine spec compliant.
The TDD PC28 is built with specialist features for construction and mining. There are a wide range of options available to tailor the crane to your operation.
Features include, three emergency stop buttons in cabin and either side of the crush zone in the articulation area, R/H handrails, access steps having three points of contact at all times, battery isolator, starter isolator and external jump start terminal, TIDD hydro-pneumatic suspension on the front axle with hydraulic lockout for crane mode and automatic height adjustment for road mode.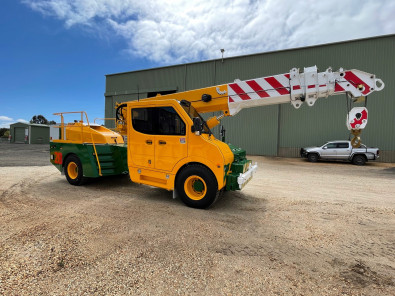 Slew Safe is one of the key features that influenced QME's purchasing decision. Specifically designed to prevent rollovers. It includes audible alarms, LMI warnings, and power steering restrictions to 15% in an unsafe direction, to prevent further slewing.
Rowan says, "We are always working in extremely confined and compact areas, the TIDD PC28 makes getting in and out a whole lot easier. Our team is always working in, around and close to construction structures so good articulation is necessary. At QME, our team work to the highest possible standards including buying the right equipment with the latest technology and safety available for the operators."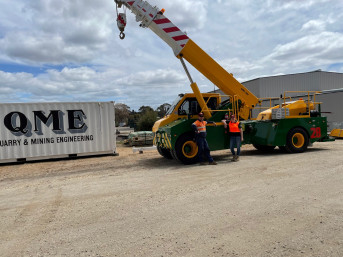 Rowan also commends the excellent service received from John Mahoney, owner of JDM Diesel Services, for the sale of their first TIDD.
"The service from John's business is great, they are on time, reliable, and have good service technicians," Rowan says.
JDM Diesel Services is the Service and Parts Support Agent for TIDD Cranes in Victoria, Australia. They specialise in mobile crane repair and maintenance.
Learn more about JDM Diesel Services here.