Meet Kent Wilcox, TRT Australia's new Service Manager
24 March 2022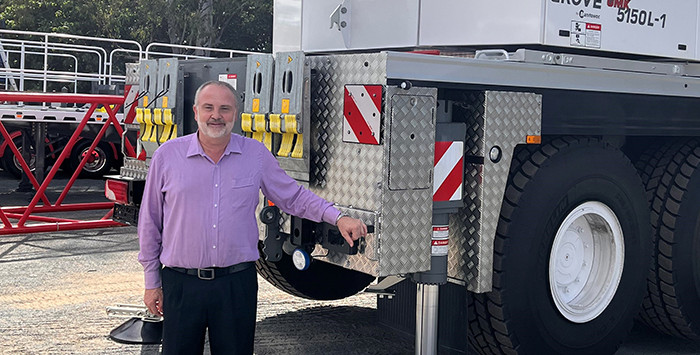 TRT welcomes Kent Wilcox to the position of new Service Manager for TRT Australia.
As TRT Australia's new Service Manager, Wilcox will play a vital role in continuing to progress their commitments and strengthen their capabilities throughout the service department in Brisbane.
Having worked for over 40 years in the industry with several different OEM brands, Wilcox returns to Australia with a great deal of expertise and knowledge.
Neil Webb, General Manager of TRT Australia confirms, "Our new TRT Australia Service Manager, Kent Wilcox, comes with a wealth of experience and knowledge in the heavy equipment industry. Wilcox's role involves overseeing and managing the employees to encourage and empower the team to drive success for TRT Australia and its customers. Wilcox is the perfect fit; with over 15 years being a Regional, Branch or Service Manager, coupled with his exceptional attitude towards safety and teamwork."
In his past experience, Wilcox worked in the United Kingdom for 13 years with Terex. Before working in the UK, he spent two years in South Africa working for Komatsu as a Technician. Wilcox began his management career in 2003 and has been managing service teams in the field and workshops for over 19 years. Wilcox has been back in Australia for over 20 years, working for Liebherr before accepting the position at TRT Australia.
"It was a combination of about three things that drew me towards wanting to be part of the TRT team. Location, the industry cross over, and most importantly the reputation. I've always known TRT as a very strong business with quality people and products. Now with the addition of Neil Webb coming on board, I see a team with a very bright future," Wilcox explains.
"I have always been a huge fan of OEM products, and TRT's equipment has always appealed to me whether it's their ESS Trailers or the TIDD Pick and Carry Crane. The innovative thinking behind the technology is thoroughly impressive."
"This new role at TRT ticks all the boxes for me. Not only do I get to work in the industry that I love, and where I grew up but also with an amazing team who have been highly effective in the crane, manufacturing, and heavy trailer sector."
When he's not in the office Wilcox enjoys traveling, water sports, and being involved in the community. Wilcox is very community-oriented, being a member of the Lions Club for over 20 years.
"In the short five weeks that I've been here, the team has been very helpful and supportive. I am looking forward to the future, I can see some good up-and-coming technicians that will develop into great assets for the company. I am delighted to have this opportunity to lead and empower the service team here in Australia," says Wilcox.