TRT Australia Appoints New Crane Sales Specialists
2 June 2022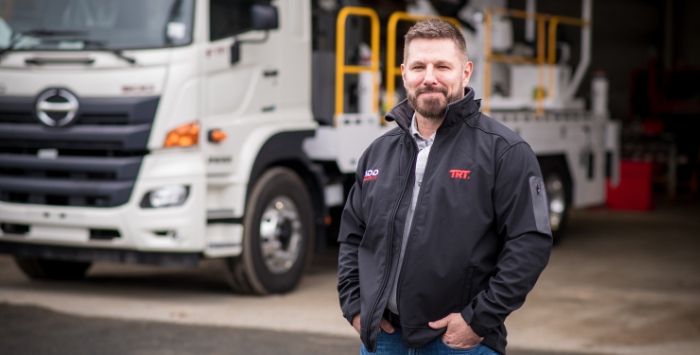 TRT Australia has announced the appointment of Brendan Cook otherwise known as Cookie to the position of Crane Sales Specialists.
In his new role, Brendan will continue to progress TRT's commitments and support their capabilities through providing solutions and ongoing support to their customers. Brendan is responsible for driving crane sales throughout Australia for the TIDD Pick and Carry Crane along with the national and Oceania distributorship for Kobelco Crawlers, and the Manitowoc Grove dealership for Queensland. Combined with identifying new opportunities for our TRT purpose-built trailer solutions. Working closely alongside Troy Hand and Neil Webb who are both well-known and experienced in the industry.
Brendan started his career at Linmac Cranes in 1994 as the Queensland representative and shortly after moved to managing their access division in 1995. From there he went to Franna Cranes and accomplished a huge career milestone by selling the first pick and carry crane to an American company that is based in Australia. Following this, Franna was then purchased by Terex where Brendan was promoted to National Access Sales Manager. After Terex sold their access division, he was promoted to Queensland Sales Manager and then onto Asia Pacific Sales Manager where he sold the first new pick and carry crane into Jakarta to a fully owned and run Indonesian company.
Neil Webb, General Manager of TRT Australia says, "Cookie is a proven performer with considerable strengths and knowledge in the industry. He has achieved many career highlights including most cranes sold by one person into Queensland and delivered valuable results in every market he's led."
Brendan says, "I am very excited to be part of the team at TRT. The reputation they have developed in the industry has impressed me. Especially with their very own manufactured TIDD Pick and Carry Crane in the way in which it sets new expectations in the market. The TIDD Crane is manufactured from scratch and has innovative technology and features that other cranes lack. The commitment to quality in every component of the crane does not go unnoticed even right through to the paint job."
"The workplace culture at TRT also stood out for me. I want to work for a team-orientated and hands-on company that has confidence in the products they sell, and I know TRT is well established for these traits."
Brendan continues, "As a sales representative you must believe in the value of the product that you're selling, and since the TIDD Crane first launched it's never stopped improving. Not to mention the cab chassis, rear bodies, and booms are all done in-house, so you know you're selling a good quality product that is made to last."
"In the short time that I've been here, everyone I have met has made me feel very welcomed. I've known Neil and Troy since they were apprentices and the knowledge and value they bring to the company almost guarantees TRT a very bright future."
Outside of work, Brendan enjoys motor racing, surfing, horse racing, and boxing.
Brendan adds, "I love working in the crane industry and selling good reputable products including the Kobelco and Manitowoc Grove Cranes. I am very much looking forward to this new journey and shaking up the industry."
Neil Webb says, "We are delighted to welcome Cookie to the team. His wealth of experience and great understanding of the industry will help TRT Australia's continual growth, and we look forward to using his talents. We are excited to have him as part of our team."