Big Bird Bridging the Gap
31 March 2023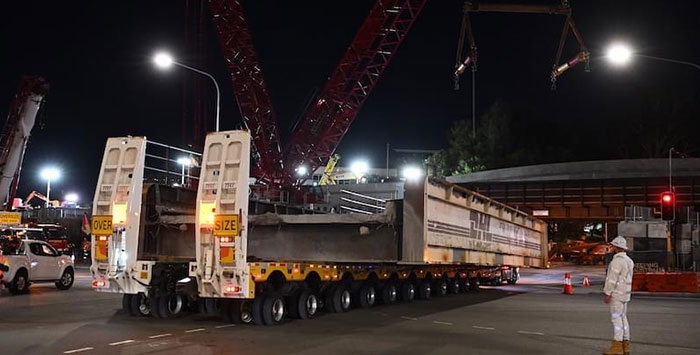 Witness the impressive performance of the popular Big Bird 11-line
TRT Trailer
as it transports a mammoth 130-tonne bridge section, measuring 20 metres long x 9.5 metres wide, along Qantas Drive in Mascot, Sydney.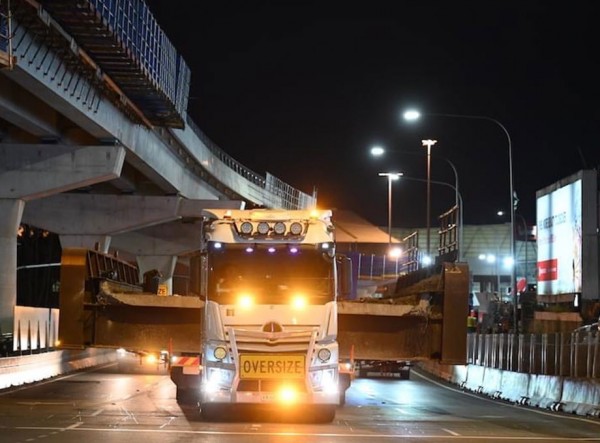 This remarkable move was accomplished by the talented team from
McDonald Contracting Pty Ltd
, working alongside
Borger Cranes
who have been sub-contracted by
John Holland
to move these bridge sections. It's great to see two of TRT's customers working hand in hand to
achieve the same goal.
Borger Cranes Terex Demag CC2800-1 600 tonne Crawler Crane was skillfully utilised to hoist and load the bridge module onto the trailer.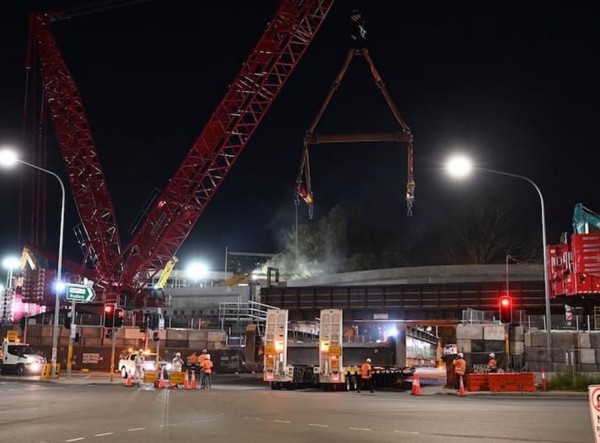 McDonald Contracting's 11-line TRT ESS Modular platform Trailer was configured as a 4x8 Lead Trailer, 5x8 ESS module and a 2x8 ESS module.
According to John Holland Group's Heavy Lift Specialist, Conan Jenkins, the exceptional and versatile capabilities of TRT's ESS Modular Platform System makes these trailers an unparalleled choice for complex tasks. Their innovative configurations have made them the preferred solution over other options.
John Holland Group's Senior Heavy Lift Engineer, Sergio Rueda uses TRT's ESS Modular Platform Trailer capabilities and steering geometry when planning transport solutions.
TRT's ESS - Electronic Steering System is available in our Modular Platform and House Trailer range. Every axle is controlled individually via a computer system that detects any offset angle between the trailer's gooseneck slew-ring connection and the truck's 5th wheel. This is translated into hydraulic oil movement within the steering ram of each axle leg, thus maintaining near-perfect steering geometry.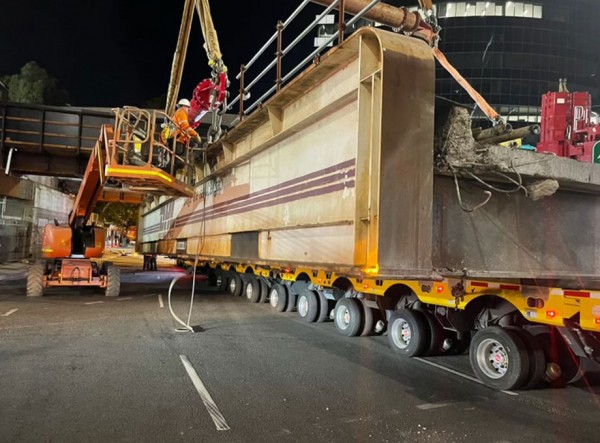 Multiple steering modes are available to any operator using one of our TRT ESS Trailers
. Normal Auto Steer (commonly used for transiting locations)
. Rear Axle Straight
. Auto Crab Mode
. Manual Crab Mode
. Site Manual Mode
If you're interested in a quote or would like to chat with someone regarding our TRT Transport Solutions, you can contact Jeremy Carden on +64 273 540 329 or email jeremyc@trt.co.nz.